THE VENDING MACHINES AND THE LOCKERS
The industrial vending machine is configured according to the size of the items you want to deliver. It can accommodate up to 1320 products depending on the chosen configuration.
On the market, we are one of the few players able to :
– Design and manufacture vending machines with visible items
– Offer the possibility of providing simultaneously office supplies, industrial consumables or personal protective equipment in these vending machines
– Provide the users with a product catalogue (decided and set up by you!) that they can consult from the vending machine to order products that are not present in it.
The vending machines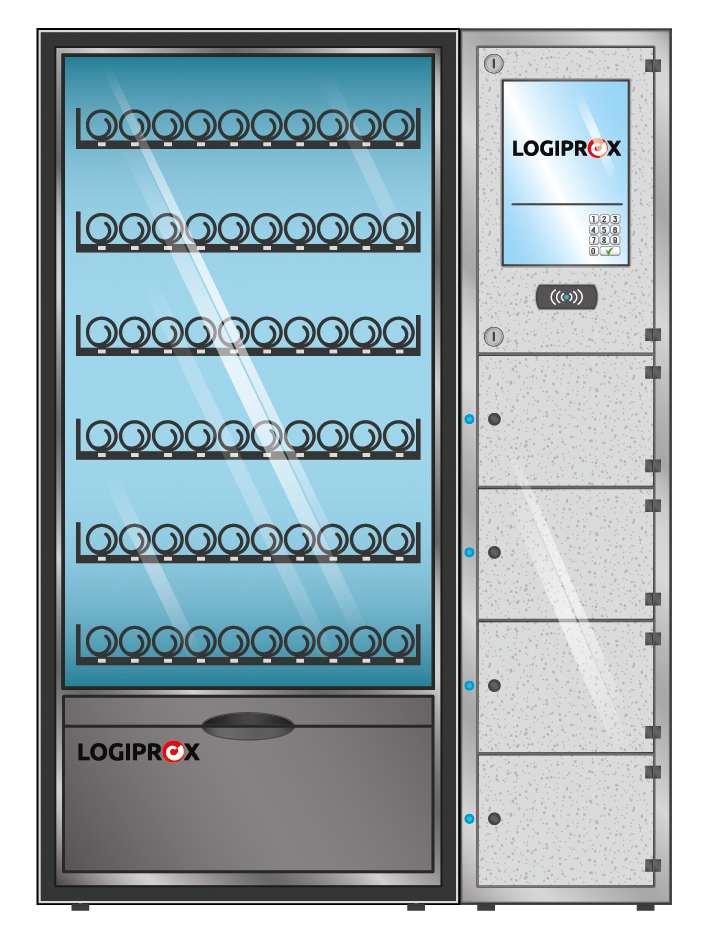 Thanks to our vending machines, we provide the employees with self-service personal protective equipment and supplies: gloves, earplugs, respiratory mask, earmuffs, safety glasses and shoes, office supplies, industrial supplies, medical consumables… and this in a secure way. With a simple badge, the equipment is accessible to any employee 7 days a week, 24 hours a day, in the immediate vicinity of his or her workstation. The precise control of the quantities that are distributed makes it possible to optimise the stocks and to reduce the consumption. Our customers save more than 20% on products consumption.
For our systems, we have chosen a helix coil technology that has been tested and approved worldwide and for any kind of product.
Our vending machines are user friendly, robust and offer endless configuration possibilities according to the items that must be dispensed to the employees (6 shelves, up to 60 coils, up to 20 columns of lockers). They are supplied with a dedicated website platform.
The lockers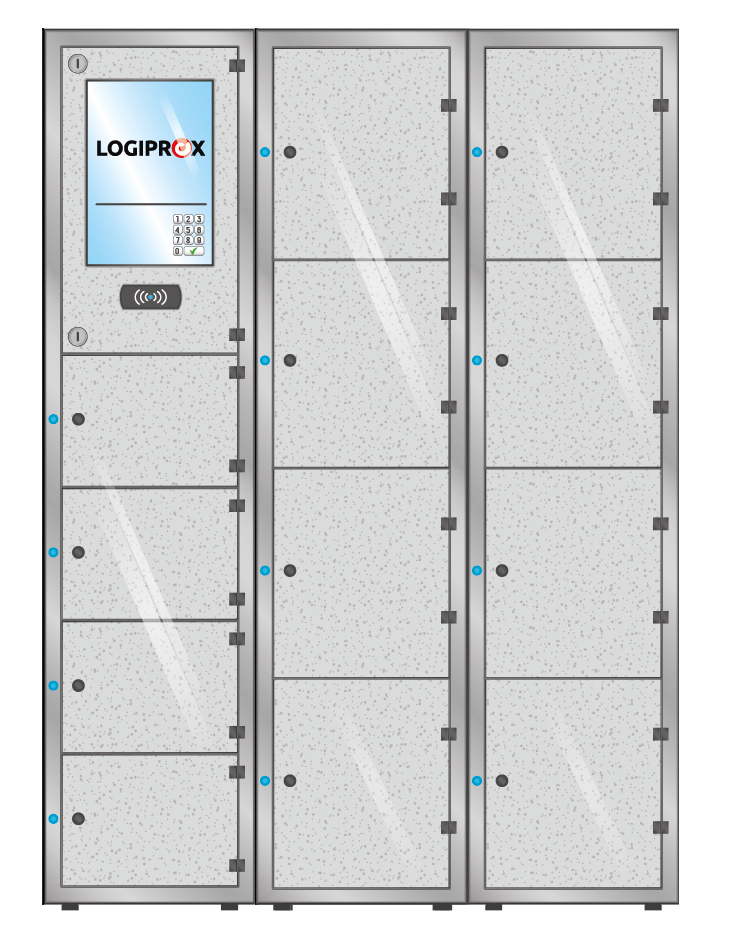 Not all products fit in the format of a coil. Therefore, it is possible to add storage modules to insert several items, up to 20 columns of lockers (with 4, 8 or 16 doors per column depending on the chosen configuration). This configuration can of course evolve over time: our solution is a plug and play solution.
For easier use, each locker has a coloured LED at each door that flashes for opening.
In addition, the users also have the option of borrowing equipment or ordering items from a catalogue :
1- You can make equipment to be shared available to your employees through the vending machines. Tools, measuring devices, laptops can therefore be borrowed for a few hours and then put back into the machine. A socket can even be integrated in the locker to recharge the equipment if necessary.
2- Another feature: ordering items from a catalogue. From the vending machine, the user can order items that are referenced in the company but not available in the machine and have them delivered. If the equipment ordered is not suitable, the return function is available.